Cucumber
---
Cucumis sativus L.

Order: Violales

Family: Cucurbitaceae

Names:

Cucumis
Sativus
Cucumber


Other Names:

Summary:

A vine producing a long round salad vegetable.


Description:

Cotyledons:

Two.


First leaves:

Leaves:

Stipules -
Petiole -
Blade -
Stem leaves -


Stems:

Flower stem -


Flower head:

Flowers:

Ovary -
Calyx -
Perianth -
Sepals -
Petals -
Stamens -
Anthers -


Fruit:

Seeds:

Roots:

Extensive deep root system.


Key Characters:

Biology:

Life cycle:

Annual running herb. Seed is planted in spring or summer and fruit is harvested in 2-3 months before maturity.


Physiology:

Optimum temperatures from 18-300C.
Susceptible to frost.
Can't tolerate long periods below 100C


Reproduction:

Flowering times:

Seed Biology and Germination:

Seed won't germinate below 160C and has an optimum of 24-350C.


Vegetative Propagules:

Hybrids:

Allelopathy:

Population Dynamics and Dispersal:

Origin and History:

Southern Asia. Africa.


Distribution:

ACT, NSW, NT, QLD, SA, VIC, WA.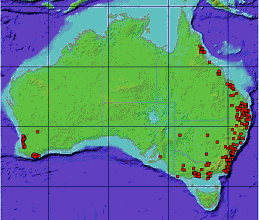 Courtesy Australia's Virtual Herbarium.


Habitats:

Climate:

Temperate. Mediterranean.


Soil:

Prefer friable, well drained, deep soils with a pH of 5-6.5.


Plant Associations:

Significance:

Beneficial:

Widely grown salad vegetable.
Honey plant.


Detrimental:

Weed of disturbed areas.


Toxicity:

Symptoms:

Treatment:

Legislation:

Management and Control:

Thresholds:

Eradication strategies:

Herbicide resistance:

Biological Control:

Pest include Spider Mite, Helicoverpa, Cucumber Fly and Pumpkin Beetle.
Diseases include Powdery Mildew, Downy Mildew, Root Rot, Wilt, Gummy Stem, Blight and mosaic viruses
Very susceptible to Damping Off in cool soils.


Related plants:

Cucumber (Cucumis sativus)
Horned Cucumber (Cucumis metuliferus)
Prickly Paddymelon (Cucumis myriocarpus)
Rock Melon (Cucumis melo ssp. melo)
Ulcardo Melon (Cucumis melo ssp. agrestis)
West Indian Gherkin (Cucumis anguria)


Plants of similar appearance:

References:

Lazarides, M. and Hince, B. (1993). CSIRO handbook of economic plants of Australia. (CSIRO, Melbourne). #379.6.

Reid, R.L. (1990). The Manual of Australian Agriculture. (Butterworths, Sydney). P144-145.

Acknowledgments:

Collated by HerbiGuide. Phone 08 98444064 or www.herbiguide.com.au for more information.