Ecopar
---
This is normally mixed with MCPA amine. See MCPA amine for other properties.

| | | |
| --- | --- | --- |
| 1 Trade name | Manufacturer | Form |
| SUMMIT ECOPAR 20 SC HERBICIDE | SIPCAM PACIFIC AUSTRALIA PTY LTD | SC |
2 PRICE:

3 ACTIVE INGREDIENTS: Pyraflufen-ethyl 20g/L + MCPA 500g/L

Other ingredients: 1,2-benzisothiazolin-3-one


4 CHEMICAL GROUP:

G,ITriazolinone group.


5 RELATED HERBICIDES:
| | |
| --- | --- |
| Affinity | Carfentrazone-ethyl 400g/kg |
| Blazer | Acifluorfen 224g/L |
| Goal | Oxyfluorfen 240g/L |
| Hammer | Carfentrazone-ethyl 240g/L |




6 GENERAL DESCRIPTION:

A rapidly absorbed, fast acting, contact, non residual, post emergent herbicide for the control of broad leaved weeds in grass crops.


7 APPLICATION METHODS AND TIPS:

Best results on young actively growing weeds in moist soil in fine weather.

Don't apply to stressed plants.

Keep spray mix agitated.

Use higher water rates on dense weed infestations.

Keep droplet density greater than 30/cm2.


8 WEATHER:

Rainfast in 6 hours.

Frost effects: Poorer results on frost affected weeds and in frosty weather

Wind: Avoid spraying within 200 m upwind of hormone sensitive plants when mixed with MCPA. Wind speeds of 2-20 kph should have less than 100 m drift.

Inversions: Avoid spraying in inversion conditions to reduce the risk of damage to off target species by drift.

Temperature:

Delta T and relative humidity: Avoid application when Delta T is greater than

Soil moisture at application: Best results when soil is moist at spraying.


9 ADJUVANTS:

Wetting agents: Don't use wetting agents.

Spray oils: Don't use spray oils.


10 WATER QUALITY:

Hard water:

Salty water:

Colloids:

pH:

Tank life:


11 COMPATIBILITY:

Trace elements.

See HerbiGuide Compatibilities button.


12 EQUIPMENT:

Boom sprays:

Carrier volume: 70-100 L/ha recommended on the label. Use finer nozzles if using carrier volumes down to 30 L/ha and ensure that droplet density is more than 30 droplets/cm2.

Nozzles: Flat fan.

Pressure: 150-400 kPa.

Use equipment that provides constant agitation while spraying.


13 SPRAYER DECONTAMINATION:

Clean Up:

Clean soon after spraying to reduce the risk of forming dried deposits that may be difficult to remove.

Remove filters and clean separately. Rinse with soapy water (eg 500 mL or g of Drive, Dynamo, Omo or Surf per 100 L water) or water plus 0.25% wetting agent and run through boom. Rinse with water.


Decontamination:

Remove filters and clean then soak in 500 mL household ammonia in 10 L water for 30 minutes.

Rinse sprayer with soapy water (eg 500 mL or g of Drive, Dynamo, Omo or Surf per 100 L water) or water plus 0.25% wetting agent and run through boom. Fill with 1% solution of ammonia and allow to stand for several hours. Triple rinse with water. Or use a commercial spray tank and equipment cleaner.

Rinse nozzles and filters in water and replace.

Don't use chlorine based cleaners.


14 HERBICIDE RESISTANCE:

Tolerant plants are expected to occur and may dominate the weed population after repeated applications.

In 2008 there was no known resistance.


15 REPLANTING INTERVALS:
| | |
| --- | --- |
| Crop | Time |
| All | No replanting period required. |

Check replanting intervals for MCPA or partner pesticides if tank mixed.


16 WITHHOLDING PERIODS:
| | | |
| --- | --- | --- |
| Crop | Type | Time |
| Barley | Grazing | 14 days |
| Barley | Harvest | Not required |
| Triticale | Grazing | 14 days |
| Triticale | Harvest | Not required |
| Wheat | Grazing | 14 days |
| Wheat | Harvest | Not required |

Check withholding periods for MCPA or partner pesticides if tank mixed.


17 RE-ENTRY PERIOD:

Wear protective clothing if in contact with the crop before the spray has dried.


18 PROTECTIVE CLOTHING:

Overalls, boots and washable hat. Use gloves and face shield when handling the concentrate.


19 SOIL:

20 MODE OF ACTION:

Aryl triazolinone or phenyl pyrazole group. Protox inhibitor. Disrupts membranes.


Uptake and translocation:

Contact action and rapidly absorbed but not translocated.


Physiological effects:

Interferes with chlorophyll synthesis by inhibiting the protoporphyrinogen IX oxidase (Protox) enzyme in chloroplasts. This leads to accumulation of protoporphyrinogen IX resulting in peroxidation of foliar cell membrane lipid under the presence of light, with subsequent cell membrane destruction and necrosis.


Residual Life and Breakdown:

21 SELECTIVITY:

Crop tolerance:

Varietal sensitivities:

Effect on Clover Species:

Little effect on clover.


Effect on Medic Species:

Effect on Lucerne:

Effect on Native Plants:

22 DISEASE AND INSECT EFFECTS:

23 PLANT SYMPTOMS:

Weeds usually show symptoms within 1-7 days of spraying. Yellowing followed by browning of leaves usually occurs within 1-3 days followed by death of the plant within 10-21 days. Recovery and regrowth from the base of the plant may occur.


SECONDARY EFFECTS:

24 TOXICITY:

Summary:

Low oral, dermal and inhalation toxicity for mammals.

Highly toxic to algae and some aquatic organisms.


Details:

Poison schedule: S5

Mammalian toxicity:

Acute oral LD50: Pyraflufen-ethyl >5000 mg/kg (rat), [For comparison table salt is 3000 mg/kg]

Acute dermal LD50: Pyraflufen-ethyl > 2000 mg/kg (rat).

Skin: Product may cause sensitisation. Acitve not irritating in rabbits or sensitising in Guinea pigs.

Eye: Product may irritate eyes. Active not irritating in rabbits.

Vapour inhalation: May irritate mucous membranes and respiratory tract. LC50 Pyraflufen-ethyl > 5.03 mg/L air (rat).

Chronic oral toxicity: NOEL mg/kg for two years.

Not carcinogenic, mutagenic or teratogenic in animal studies (i.e. does not cause cancer or reproductive problems in animal tests).

Acceptable Daily Intake (ADI): 0.2 mg/kg bw/day.

No Observable Effect Level (NOEL): 20 mg/kg bw/day


Other Species:

Birds: Low toxicity. LD50 >200 mg/kg (Mallard Duck and Bobwhite Quail)

Fish: toxicity LC50 > mg/L. NOEC >100 ug/L.

Invertebrates: Probably toxic.

Bees: toxicity.

Arthropods: toxicity.

Earthworms:

Algae: High toxicity.

Accumulation:


25 TOXICITY SYMPTOMS:

Swallowing can cause vomiting and gastrointestinal irritation.


26 FIRST AID:

If SWALLOWED: Do NOT give anything by mouth to a semiconscious or unconscious patient. Do NOT induce vomiting. Give a glass of water to sip. See a doctor if symptoms develop.

If in EYES: Irrigate with plenty of water.

If on SKIN: Rinse with plenty of water, remove contaminated clothing, wash with soap and water. If redness, swelling, blistering or irritation occurs then see a doctor.

If INHALED: Remove patient to fresh air. See a doctor if effects persist.

Advice to doctor: Treat symptomatically. Effects may be delayed.

Contact the Poisons Information Centre on 131126.


27 ENVIRONMENTAL FATE:

Readily biodegradable.

Half life in soil:

Half life in water: days at pH5 and 35 C.

It has an EPA classification for soil mobility that ranges from

Ground water contamination

Accumulation in milk and tissues.

pH stability:

Photolysis rate:

Hydrolysis half life:

Biodegradation rate:




28 REGISTERED CROPS:

See HerbiGuide Species Solution tab.


29 REGISTERED WEEDS:

See HerbiGuide Species Solution tab.


30 REGULATION AND LEGAL:

UN number:

CAS numbers: 129630-19-9

Hazchem code: Not applicable.

NOHSC classification: Hazardous.

Land transport:

Dangerous goods class (ADG): Not classified as a dangerous good.

Sea transport:

Proper shipping name:

International Maritime Dangerous Goods Code (IMDG): Not classified as a dangerous good.

Class:

Packaging group:

EPG:

Air transport:

IATA: Not classified as a dangerous good.


31 PROPERTIES:

Colour: White milky liquid.

Odour: Slight odour.

Form: Liquid. Soluble concentrate.

Chemical name: Pyraflufen-ethyl. Ethyl 2-chloro-5-(4-chloro-5difluoromethoxy-1-methylpyrazol-3-yl)-4-fluorophenoxyacetate (IPUAC).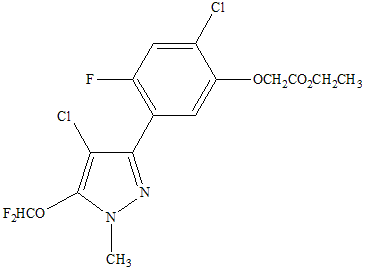 CAS 129630-19-9

Empirical formula: C15H13Cl2F3N2O4

Water solubility: Product miscible in water. Active 0.0-82 mg/L.

Oil solubility of active: Heptane: 234 mg/L, Methanol: 7.39 g/L, Dichloromethane: 100-111 g/L, Acetone: 167-182 g/L, P-xylene: 41.7-43.5 g/L, Ethyl acetate: 105-111 g/L

Octanol:Water ratio: LogPow = 3.49

Soil organic carbon absorption coefficient (Koc):

Vapour Pressure: 1.6 x 10-8 Pa at 25 C.

Henry's Law constant 8.1 x 10-5 Pa.m3/mol

Relative Vapour Density: >1 (air=1)

Dissociation constant: Does not dissociate.

Melting point: 126.4-127.2 0C for active.

Boiling point: about 100 C.

Molecular weight: 413.2

Bulk density: 1.565 g/cm-3 for active at 24 0C.

Specific gravity: 1.02-1.03.

pH: 6.5-7. 6.84 at 24 0C.

Flammability: Not flammable. Not combustible. Dried residues may burn and emit toxic fumes.

Flashpoint: No flash at temperatures up to 100 C. Not explosive.

Autoignition: C.

Corrosivity:

Oxidising properties: Not oxidising.

Shelf Life: 3 years. (at least 26 months).

(When Stored under Ideal Conditions)

Temperature stability: No loss after 14 days at 54 0C. No separation of suspended material at low temperatures.

Foaming: Non foaming.

Viscosity: Non Newtonian.

Surface tension: 39.2 mN/m for product. 45.9 mN/m at 1:200 dilution. 74.2 mN/m for active at 20 0C

Suspensibilty: 97.6% at 1:200 dilution.

Particle size: <38 um.




32 SPILLS:

Absorb spill with earth, sand, clay or absorbent material.

Ventilate area after cleanup. Slippery when spilt. Wash area with water plus detergent and dispose of waste water in a chemical pit.


33 FIRE:

Extinguish with water spray, foam, carbon dioxide or dry agent.

Toxic fumes may be released in fire. Wear breathing apparatus or avoid smoke.


34 COMMENTS:

35 REFERENCES:

Summit Agro (2007) Label 60493/0707.

Summit Agro (2007) MSDS June 2007.


Acknowledgments:

Collated by HerbiGuide. For more information see www.herbiguide.com.au or phone 08 98444064.