French Serradella
---
Ornithopus sativus Brot.

Family: - Fabaceae.

Names:

French Serradella.

Cadiz


Summary:

A low growing, sprawling, hairy annual legume with leaves divided into 5-18 pairs of narrow leaflets. It has stalked head-like clusters of pink to white pea flowers in spring. The flowers are white to pink and 6-8 mm long in spring. The seed pods are straight or slightly curved, narrow but very compressed and distinctly constricted between the seeds to almost like a string of beads and separate at maturity into single-seeded units.

Native to Europe or the Mediterranean region but have become weeds along roadsides, particularly in wetlands.


Description:

Cotyledons:

Two.


Leaves:

With 5-18 pairs of leaflets.

Stipules - Small and membranous on the main leaf, no stipules on the leaflets.

Petiole - On the main leaf only.

Blade - Leaflets, oval, 3-10 mm long by 1.5-4 mm wide, sides convex, sparsely hairy, rounded tip with a tiny point.


Stems:

Low lying, sprawling or bending upwards at the ends, 500 mm long. Hairy.


Flower head:

On stalks in leaf axils, 2-5 flowered. With a floral leaf with leaflets underneath.


Flowers:

Pink or white, pea type.

Bracts - Tiny

Ovary - Stalkless. Many ovules. Style bent inwards, Stigma flat topped.

Sepals - 4 mm long, tubular ribbed near the base, 5 narrowly triangular lobes on top about 2 mm long with acute tips. Tube is 2 mm long. Hairy.

Petals - Pink or white. Standard 7-8 mm long. Limb narrowly oblong or egg shaped. Wings 5-6 mm long. Keel 3-4 mm long, straight, obtuse tip.

Stamens - In 2 groups. Filaments of each group joined. Alternate filaments swollen near the tip.

Anthers - All the same.


Fruit:

Very flattened, narrowly oblong pod, 10-25 mm long, stalkless with a network pattern on the surface. Straight or slightly curved. Hairless or with short hairs. Constricted between the seeds to almost like a string of beads. Pod does not release seed when ripe, it breaks crosswise into single seeded segments.


Seeds:

No persistent enlarged seed stalk (funicle or aril) where the seed joins the pod.


Roots:

Taproot and laterals with nitrogen fixing nodules.


Key Characters:

Hairy. Annual. Flower head subtended by a pinnate floral leaf. Flowers pink or white. Calyx lobes 2-2.5 mm long and as long as the tube. Pod distinctly constricted between the segments.

From Judy Wheeler, Flora of the Perth Region.


Biology:

Life cycle:

Annual. Seeds germinate in autumn and the plant grows through winter and spring to flower in October and die with the onset of high temperatures and summer drought.


Physiology:

Fixes atmospheric nitrogen.


Reproduction:

By seed.


Flowering times:

October in Perth.


Seed Biology and Germination:

Produces hard or dormant seed.

Seed may need scarification to achieve high germination levels.


Vegetative Propagules:

None.


Hybrids:

Allelopathy:

Population Dynamics and Dispersal:

Spread by seed. Passes through stock in a viable condition.


Origin and History:

Mediterranean. Spain. Portugal.


Distribution:

NSW, VIC, WA.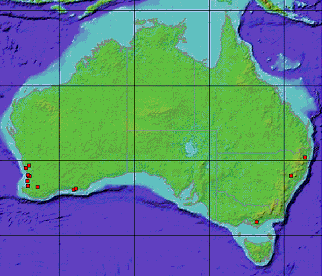 Courtesy Australia's Virtual Herbarium


Habitats:

Climate:

Temperate. Mediterranean.


Soil:

Sandy soils.


Plant Associations:

Significance:

Beneficial:

Fodder.

Fixes nitrogen.


Detrimental:

Weed of crops, roadsides, bushland and disturbed areas.


Toxicity:

Not recorded as toxic.


Legislation:

None.


Management and Control:

Thresholds:

10-30 plants/m2 are usually worth spraying in grass or cereal crops.


Eradication strategies:

Exclude stock to reduce the dispersal of seed.

Hand pull odd plants in winter before flowering. For small infestations and grass dominant areas an annual application of 10 mL Tordon®75-D in 10 L water in early winter gives excellent control of existing plants and has residual activity to control later seedlings. 200 mL/ha Lontrel®750 or 50 g/ha Logran® applied in early winter provides reasonably selective control in bushland areas. For hand spraying use 25 mL wetting agent plus 4 g Lontrel®750 or 1 g Logran® in 10 L water. Repeat annually for several years. Metsulfuron(600g/kg) also provides good control at 5 g/ha but is less selective.

Plant tall growing perennial species to reduce re-invasion.

It is relatively tolerant to glyphosate, grazing and mowing.

Other sulfonylurea herbicides also provide good control.


Herbicide resistance:

Relatively tolerant to glyphosate and bipyridyl herbicides.


Biological Control:

Related plants:

Slender Serradella (Ornithopus pinnatus) is almost hairless with yellow flowers and a narrowly cylindric seed pod. It is widespread in WA.

Yellow Serradella (Ornithopus compressus) is a greyish hairy plant with yellow flowers and a narrow but compressed seed pod but scarcely constricted between the seeds. . It is widespread in WA.


Plants of similar appearance:

Clovers, Medics, Lotus, Trefoils, Vetch, Lathyrus.


References:

Hussey, B.M.J., Keighery, G.J., Cousens, R.D., Dodd, J. and Lloyd, S.G. (1997). Western Weeds. A guide to the weeds of Western Australia. (Plant Protection Society of Western Australia, Perth, Western Australia). P156.

Lamp, C. and Collet, F. (1990). A Field Guide to Weeds in Australia. (Inkata Press, Melbourne).

Lazarides, M. and Hince, B. (1993). CSIRO handbook of economic plants of Australia. (CSIRO, Melbourne). #909.3.

Marchant, N.G., Wheeler, J.R., Rye, B.L., Bennett, E.M., Lander, N.S. and Macfarlane, T.D. (1987). Flora of the Perth Region. (Western Australian Herbarium, Department of Agriculture, Western Australia). P288.


Acknowledgments:

Collated by HerbiGuide. Phone 08 98444064 or www.herbiguide.com.au for more information.