Gambia Pea
---
Crotalaria goreensis Guillemin & Perrottet

Family: Fabaceae.

Names:

Gambia Pea.


Summary:

An erect, woody, much branched, annual or biennial plant to 2.5 m tall with 2 leafy stipules at the base of the long petiole that carry trifoliate leaves with narrow leaflets. The sprays of yellow, 1 cm, pea-type flowers appear in autumn and produce short pods.


Description:

Cotyledons:

Two.


Leaves:

Trifoliate (3 leaflets). Alternate.
Stipules - 2 leafy. Oval to egg-shaped. 8-25 mm long. Long tapering tip.
Petiole - 10-80 mm long.
Blade - Leaflets narrowly egg-shaped to oval on short stalks. 15-80 long x 5-25 mm wide. Upper surface almost hairless. Lower surface has sparse low lying furry hairs. Central leaflet has a blunt tip with a small point formed by the mid-rid.


Stems:

Erect. Up to 2600 mm long. Low lying furry hairs. Many branched.


Flower head:

Spike like. Raceme at the ends of branches with awl shaped bracts. 3-4 mm long and fall off before maturity. Up to 250 mm long with 10-20 flowers.


Flowers:

Yellow on stalks about 3 mm long. Pea type.
Ovary -
Calyx - 4-5.5 mm long. Furry hairs. 5 or rarely 4 lobes of almost equal size, 3-3.5 mm long, and narrowly triangular. Corolla - About 10 mm long. Mainly yellow, often with blotches of orange or red-brown.
Petals - Yellow. Wings 7-11 mm long, slightly shorter than the keel. Keel has a 5-7 mm long straight beak, and is densely hairy on the upper edge. Standard, hairless, 7-10 mm with an egg shaped limb.
Stamens -
Anthers - Alternate anthers 50% longer than the others.


Fruit:

Swollen pod. 15-20 mm long x 7-10 mm wide. Short, furry hairs. Oblong to oval with 12-16 seeds. On a short stalk.


Seeds:

Orange. 2.5-4 mm long.


Roots:

Legume with nitrogen fixing nodules.


Key Characters:

Trifoliate leaves.
Yellow pea-type flowers.
Pods with 12-16 seeds.
In tropical areas.


Biology:

Life cycle:

Annual or biennial. Flowers April to June.


Physiology:

Reproduction:

Flowering times:

April to June.


Seed Biology and Germination:

Vegetative Propagules:

Hybrids:

Allelopathy:

Population Dynamics and Dispersal:

Origin and History:

Tropical Africa.


Distribution:

NSW, NT, QLD, WA.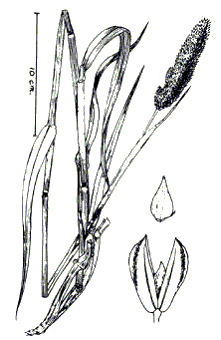 Courtesy Australia's Virtual Herbarium.


Habitats:

Climate:

Tropical.


Soil:

Plant Associations:

Significance:

Beneficial:

Introduced to Queensland as a green manure crop.


Detrimental:

Weed of roadsides and poorer pastures in high rainfall areas.


Toxicity:

Chicken growth is inhibited when rations contaminated with Gambia pea seeds are used.
Suspected of poisoning cattle.


Symptoms:

Chickens - faecal knobs in the droppings, feet and vent feathers.


Treatment:

Don't use seed in poultry rations.


Legislation:

None.


Management and Control:

Thresholds:

Eradication strategies:

Herbicide resistance:

Biological Control:

Related plants:

Chillagoe Horse Poison (C. aridicola)
Kimberley Horse Poison (C. crispata)
Grey Rattlepod (C. dissitiflora)
Bluebush Pea (C. eremaea)
Woolly Rattlepod (C. incana)
Sun Hemp (C. juncea)
Bird Flower (C. laburnifolia)
Trefoil Rattlepod (C. medicaginea)
Yellow Rattlepod (C. mitchellii)
New Holland Rattlepod (C. novae-hollandiae)
Streaked Rattlepod (C. pallida)
Wedge leaved Rattlepod (C. retusa)
Showy Rattlepod (C. spectabilis)
C. cunninghamii
C. lanceolata
C. linifolia


Plants of similar appearance:

References:

Everist, S.L. (1974). Poisonous Plants of Australia. (Angus and Robertson, Sydney). P420.

Harden (1991) Vol. 2. P517

Lamp, C. and Collet, F. (1990). A Field Guide to Weeds in Australia. (Inkata Press, Melbourne). P90.

Lazarides, M. and Hince, B. (1993). CSIRO handbook of economic plants of Australia. (CSIRO, Melbourne). #373.6.

Morley and Toelken (1983). P517

Acknowledgments:

Collated by HerbiGuide. Phone 08 98444064 or www.herbiguide.com.au for more information.