Kangaroo Paw
---
Anigozanthos species

Synonyms -


Family: Haemodoraceae

Names:

Kangaroo Paw because the flowers resemble a kangaroo's paw.


Other Names:

Some species referred to as Catspaw.


Summary:

A perennial, narrow leaved herb with clusters of distinctive glove shaped, woolly flowers. The flowers have a six lobed tube that is split on one side.


Description:

Cotyledons:

One.


First leaves:

Leaves:

Mainly basal with a few shorter leaves on the stems. The leaves may be perennial or renewed annually.
Basal leaves
Blade - laterally flattened or terete.
Ligule - None.
Auricles - None.
Sheath - Sheathing base of blade.
Stem leaves - Sheathing base with a flat or terete blade.


Stems:

Flower stem - Erect, branched or unbranched


Flower head:

Dense one sided spike or raceme on the ends of unbranched stems or at the ends of branches in a panicle. Flowers almost stalkless.


Flowers:

Ovary - Inferior, 3 celled. 2 - many ovules per cell.
Style - long and thread like.
Stigma - apical, slightly enlarged, entire.
Perianth - Persistent. Long curved tube with 6 (usually unequal) short lobes. The floral tube is split open near the top. Covered with dense red, green, yellow or orange woolly, branched hairs on the outside.
Stamens - 6
Filaments - short and inserted into the tube just blow the lobes.
Anthers - Sometimes with a small apical appendage


Fruit:

3 celled capsule. Persistent.


Seeds:

Angular to oblong, pitted or furrowed. Reddish brown to grey or black.


Roots:

Fibrous.


Key Characters:

Long linear basal leaves.
Leaves simple, entire.
No stipules.
Flowers hairy, zygomorphic, bisexual.
Perianth a 6 lobed tube, split on one side.
6 stamens.
Inferior ovary.
1style.
3 carpels joined to form a 3 celled ovary.
Underground rhizome


Biology:

Life cycle:

Perennial rhizome with annual or perennial leaves.


Physiology:

Reproduction:

By seed and rhizome.
Most species flower best after a fire.


Flowering times:

Most species flower between late winter and early summer.


Seed Biology and Germination:

Vegetative Propagules:

Perennial underground rhizome.


Hybrids:

Hybridization between species is common.


Population Dynamics and Dispersal:

Spread by seed mainly.


Origin and History:

Native to Western Australia.


Distribution:

NSW, SA, VIC, WA.


Courtesy Australia's Virtual Herbarium.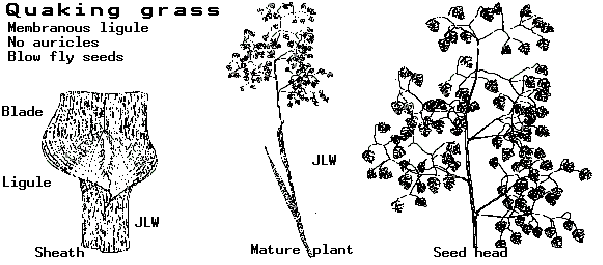 Courtesy Australia's Virtual Herbarium.


Habitats:

Climate:

Mediterranean


Soil:

Plant Associations:

Significance:

Beneficial:

Ornamental.


Detrimental:

Toxicity:

Not recorded as toxic.


Symptoms:

Treatment:

Legislation:

The Wildlife Conservation Act prohibits removal of native plants from the wild in their native range on government land.
Some sub species are on the rare flora list.


Management and Control:

Grazing normally provides control in agricultural situations.
Repeated cultivation to desiccate the rhizome provides control.
Burning is ineffective.


Thresholds:

Rarely an economic problem.


Eradication strategies:

Spot spray with glyphosate.


Herbicide resistance:

None recorded.


Biological Control:

None.


Related plants:

Albany Catspaw (Anigozanthos preissii)
Branched Catspaw (Anigozanthos onycis)
Catspaw (Anigozanthos humilis)
Dwarf Kangaroo Paw (Anigozanthos gabrielae)
Green Kangaroo Paw (Anigozanthos viridis)
Kalbarri Catspaw (Anigozanthos kalbarriensis)
Little Kangaroo Paw (Anigozanthos bicolor)
Mangles Kangaroo Paw (Anigozanthos manglesii)
Red Kangaroo Paw (Anigozanthos rufus)
Tall Kangaroo Paw (Anigozanthos flavidus)
Yellow Kangaroo Paw (Anigozanthos pulcherrimus)


Plants of similar appearance:

Kangaroos paws usually have blotches on the leaves caused by disease whereas most of the introduced invasive species tend to be clean-leaved. The remnants of flower heads can often be used to distinguish them easily.
African Cornflag (Chasmanthe floribunda)
Freesia (Freesia leichtlinii)
Gladiolus (Gladiolus species)
Harlequin Flower (Sparaxis spp.)
Ixia (Ixia species)
Montbretia (Crocosmia x crocosmiiflora)
Patersonia species
Orthrosanthus species
Watsonia (Watsonia species) when not in flower.


References:

Bodkin, F. (1986). Encyclopaedia Botanica. (Angus and Robertson, Australia).

Everist, S.L. (1974). Poisonous Plants of Australia. (Angus and Robertson, Sydney).

Marchant et al (1987). Flora of the Perth Region. (Western Australian Herbarium, Department of Agriculture, Western Australia). 845-847. Diagrams.

Paczkowska, G. and Chapman, A. (2000). The Western Australia flora: a descriptive catalogue. (Wildflower Society of Western Australia (Inc), the Western Australian Herbarium, CALM and the Botanic Gardens & Parks Authority). P60-61.

Wheeler, Judy, Marchant, Neville and Lewington, Margaret. (2002). Flora of the South West: Bunbury - Augusta - Denmark. (Western Australian Herbarium, Bentley, Western Australia). 306-307. Diagrams.

Acknowledgments:

Collated by HerbiGuide. Phone 08 98444064 or www.herbiguide.com.au for more information.