Old Man Saltbush
---
Atriplex nummularia Lindl.

Synonyms -


Family: Chenopodiaceae

Names:

Atriplex is the Latin name of the Garden Orach.


Other Names:

Giant saltbush.
Cabbage saltbush.


Summary:

An erect, grey, scaly, bushy shrub, 1-3 m high and occasionally to 5 m wide with woody brittle branches.


Description:

Cotyledons:

Two. Oval, stalkless, pointed tip, rounded sides and tapering base.


First leaves:

First leaf long and thin and different to subsequent leaves.


Leaves:


Alternate, mealy, grey with a scaly tomentum.
Stipules -
Petiole - Yes
Blade - Broadly egg shaped to almost circular, about 10-25 mm long. Often truncate at the base. Edges entire to shallowly toothed.


Stems:

Brittle woody branches. Stems will form roots where they contact the ground.


Flower head:

Paniculate at the ends of stems.


Flowers:

Unisexual. Usually different sexes on different plants.
Ovary - superior.
Style- 2 branched.
Perianth - 5 lobed. Only occurs on male flowers.
Stamens -
Anthers -
The female flower has no perianth and consists of the pistil (ovary and style) contained within 2 flattened bracteoles.


Fruit:

Fruiting bodies 5-10 mm long, edges entire to wavy, almost round to somewhat fan shaped, nerved, stalkless (sessile). Bracteoles united only near the hardened base. The upper edge is toothed or smooth.


Seeds:

Flattened, vertical. Contained between two flattened bracteoles.


Roots:

Taproot. Deep robust root system.


Key Characters:

Mostly dioecious, woody perennial shrub to 3 m tall. 2 transversely sub orbicular or broad-triangular fruiting bracteoles united only near the bases. Bracteoles obtuse, without appendages and sessile. Leaves broad.
Adapted from G. Harden


Biology:

Life cycle:

Perennial.


Physiology:

It tolerates extreme drought and shallow water logging for lengthy periods.
It recovers well after grazing and can withstand complete defoliation. Contains high levels of salt and grazing animals require a ready source of fresh water.


Reproduction:

By seed and layering.


Flowering times:

Mainly spring and early summer in NSW.
Most of the year in SA.


Seed Biology and Germination:

Vegetative Propagules:

Layers and grows freely from cuttings.


Hybrids:

Several sub species.


Allelopathy:

Population Dynamics and Dispersal:

Spread mainly by seed and intentional plantings.


Origin and History:

Native to Australia.


Distribution:

ACT, NSW, NT, QLD, SA, VIC, WA.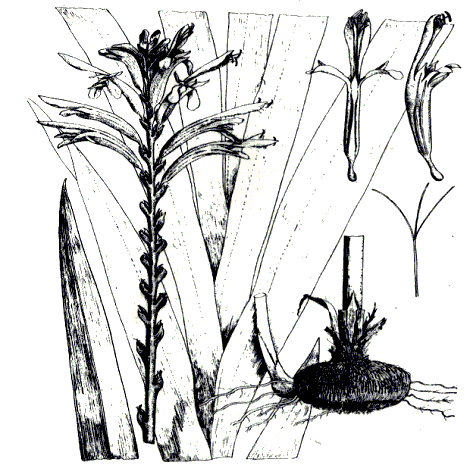 Habitats:

Climate:

Temperate to arid.


Soil:

Found on many soil types but more common on clay, sandy loam and saline soils. Prefers flat low lying situations.


Plant Associations:

Myall (Acacia pendula), Bladder saltbush (Atriplex vesicaria), Black box (Eucalyptus largiflorens).
Mallee communities.


Significance:

Beneficial:

Planted as a fodder species in saline areas.
Pastoral area fodder.


Detrimental:

Weed of crops.


Toxicity:

Not recorded as toxic.


Legislation:

Native plant.


Management and Control:

Heavy grazing and cultivation are about the only economic methods of management to reduce stands.


Thresholds:

Eradication strategies:

Established Old Man Saltbush is difficult to control with herbicides. High rates of chlorsulfuron or Tordon® 75-D provide reasonable control.
Blade ploughing is probably the most economic way to kill established stands. A follow up cultivation may be required in summer. Apply pre-emergent herbicides such as metolachlor or propyzamide to prevent re-establishment from seed.


Herbicide resistance:

None reported.


Biological Control:

None likely as it is a native plant.


Related plants:

There are 48 other species of Atriplex in WA.


Plants of similar appearance:

Saltbushes.
Silver Podalyria (Podalyria sericea) is a similar shrub with silver leaves.


References:

Black, J.M. (1965). Flora of South Australia. (Government Printer, Adelaide, South Australia). P294. Diagram.

Bodkin, F. (1986). Encyclopaedia Botanica. (Angus and Robertson, Australia).

Cunningham, G.M., Mulham, W.E., Milthorpe, P.L. and Leigh, J.H. (1992). Plants of Western New South Wales. (Inkata Press, Melbourne). P241. Photo.

Everist, S.L. (1974). Poisonous Plants of Australia. (Angus and Robertson, Sydney).

Gardner, G.A. and Bennetts, H.W. (1956). The toxic plants of Western Australia. (West Australian Newspapers Ltd, Perth). P24-25.

Harden, Gwen J. (1991). Flora of NSW. (Royal Botanic Gardens, Sydney). Volume . P211. Diagram.

Paczkowska, G. and Chapman, A. (2000). The Western Australia flora: a descriptive catalogue. (Wildflower Society of Western Australia (Inc), the Western Australian Herbarium, CALM and the Botanic Gardens & Parks Authority). P200.

Acknowledgments:

Collated by HerbiGuide. Phone 08 98444064 or www.herbiguide.com.au for more information.