Spreading Night Phlox
---
Zaluzianskya divaricata

Synonyms -


Family: - Scrophulariaceae

Names:

Zaluzianskya celebrates the botanist Dr. Adam Zaluzianski.


Divaricata

Other Names:

Creeping Night Phlox

Spreading Night Phlox

Zed Weed


Summary:

An erect, hairy, annual herb to 3-35 cm tall with distinctive yellow, 5 petalled, tubular flowers with a red streak from August to October. The leaves are toothed with the lower ones opposite and the upper ones alternate.


Description:

Cotyledons:

Two.


First leaves:

Leaves:

Lower leaves are opposite, upper leaves alternate.

Stipules - None.

Petiole - Shorter than blade on lower leaves to tiny on upper leaves.

Blade - Egg to lance shaped, 10-20 mm long Tip pointed to round. Sides toothed. Base tapering. Hairy.

Stem leaves - alternate.


Stems:

Erect and often single but may be branched into a candelabra type structure. 30-350 mm tall. Hairy.


Flower head:

Single flowers on tiny stalks arising from the leaf axils


Flowers:

Tubular with 5 yellow petals that have a red streak.

Ovary - superior, 2 celled

Style - one, long, threadlike and gradually thickened towards the tip.

Calyx - Tubular, 6 mm long, with 5 lance shaped lobes. Joined to the base of the floral leaf. Persistent

Petals - Tubular with 5 yellow spreading, rounded lobes that have a orange-red lengthwise streak. Tube15-20 mm long, lobes 3 mm long. Lobes folded over each other in the bud

Stamens - 4 in 2 pairs. One pair longer than the other. Attached to the corolla tube. Alternate with the lower corolla lobes.

Anthers - 1 celled. Small and barren on the 2 upper stamens and larger on the lower 2 stamens


Fruit:

Conical, 2 celled capsule that is longer than the calyx.


Seeds:

Tiny and many.


Roots:

Taproot.


Key Characters:

Some leaves opposite.

Calyx 5 toothed

Corolla with 5 spreading lobes and not spurred or pouched

The upper lip or 2 posterior (upper) lobes of corolla covering the lateral lobes in bud.

2 upper stamens small or barren

Capsule 2 valved

Adapted from John Black


Biology:

Life cycle:

Annual herb.


Physiology:

Reproduction:

By seed.


Flowering times:

August to October in WA.

September to October in SA.


Seed Biology and Germination:

Vegetative Propagules:

Hybrids:

Allelopathy:

Population Dynamics and Dispersal:

Origin and History:

South Africa


Distribution:

SA, WA.

Yalgoo, Avon wheatbelt, Esperance, Geraldton sandplain, Jarrah forest and Mallee areas of WA.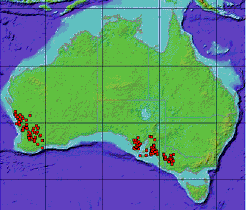 Courtesy Australia's Virtual Herbarium


Habitats:

Climate:

Temperate.


Soil:

Prefers sandy soils.


Plant Associations:

Significance:

Beneficial:

Ornamental.


Detrimental:

Weed of disturbed areas and bushland, roadsides and minimum tillage cropping.


Toxicity:

Symptoms:

Treatment:

Legislation:

None.


Management and Control:

Thresholds:

Eradication strategies:

Herbicide resistance:

None reported.


Biological Control:

Brown Pasture Looper (Ciampa arietaria) attacks it.


Related plants:

Bartsia (Parentucellia species)

Mullein (Verbascum species)

Speedwell (Veronica species)

Tar Vine (Kickxia species)

White Bartsia (Bellardia trixago)


Plants of similar appearance:

Bartsia flowers don't have a red stripe.

White Bartsia has white flowers.


References:

Black, J.M. (1965). Flora of South Australia. (Government Printer, Adelaide, South Australia). P767. Diagram.

Bodkin, F. (1986). Encyclopaedia Botanica. (Angus and Robertson, Australia).

Everist, S.L. (1974). Poisonous Plants of Australia. (Angus and Robertson, Sydney).

Lazarides, M. and Cowley, K. and Hohnen, P. (1997). CSIRO handbook of Australian Weeds. (CSIRO, Melbourne). #1068.1

Parsons, W.T. and Cuthbertson, E.G. (1992) Noxious weeds of Australia. (Inkata Press, Melbourne).

Paczkowska, G. and Chapman, A. (2000). The Western Australia flora: a descriptive catalogue. (Wildflower Society of Western Australia (Inc), the Western Australian Herbarium, CALM and the Botanic Gardens & Parks Authority). P534.

Randall, J.M. and Marinelli, J. (1996) Invasive Plants. (Brooklyn Botanic Gardens Inc. Brooklyn). P. Photo.


Acknowledgments:

Collated by HerbiGuide. Phone 08 98444064 or www.herbiguide.com.au for more information.