Sweet Hound's-tongue
---
Cynoglossum suaveolens R.Br.

Synonyms -


Family: Boraginaceae

Names:

Cynoglossum is from the Greek kynoglosson from kyon or kynos meaning a dog and glossa meaning a tongue and alludes to the shape of the leaves.
Sweet Hound's-tongue is derived from its genus name and its palatability.


Other Names:

Summary:

A coarsely hairy perennial with spear shaped leaves in a rosette at the base and an erect flowering stem, 10-50 cm tall. It has fragrant white flowers with a yellow centre on shorts stalks. These form fruits of 4 small nutlets covered in short, stout, hooked spines


Description:

Cotyledons:

Two.


First leaves:

Leaves:

Form a rosette.
Stipules -
Petiole - 30-50 mm long on lower leaves to short or absent on upper leaves.
Blade - Spear shaped to elliptical. Rosette leaves 50-200 mm long x 12-25 mm wide. Midrib prominent on the underside. Rosette leaves sometimes wavy (undulate) and upper leaves usually wavy. Tip round to pointed. Sides curved. Base tapering.
Stem leaves - Smaller and decreasing in size towards the apex with a shorter or no petiole.


Stems:

Flower stem - Erect, coarsely hairy with short, low lying (appressed) to spreading, tubercle based hairs.


Flower head:

Cyme.
Flowers on stalks (peduncles) which are longer than the calyx. Small bracts opposite or below the peduncles. Bracts are usually leafy on the lower part of the stem and minute near the top. Flower stalks 8-25 mm long when in fruit.


Flowers:

White or pale yellow with yellow centres or occasionally blue. 4-4.5 mm long and often fragrant.
Ovary - 4 lobed.
Style - Short with a minute stigma.
Calyx - 2-3 mm long, bristly, deeply lobed with 5 elliptic lobes.
Petals - 5. White. Yellow near base. 4-4.5 mm long. Tubular at the base with the tube about the same length as the calyx. The throat is almost closed by 5, yellow, broad, notched, gland like papillose scales.
Stamens -
Anthers -


Fruit:

Composed of 4 small, 4-5 mm long, egg shaped, compressed nutlets usually but may be reduced to one or two by abortion. Covered in short, stout, hooked bristles on the outer convex surface and smooth on the inner face. Each bristle has 4-6 reflexed barbs.


Seeds:

Probably mottled and kidney shaped.


Roots:

Perennial rootstock taproot.


Key Characters:

Cymes with bracts.
Fruits sub globular (usually 4)
See http://ucjeps.berkeley.edu/cgi-bin/get_IJM.pl?key=69


Biology:

Life cycle:

Annual tops with a perennial rootstock.


Physiology:

Reproduction:

By seed and perennial rootstock.


Flowering times:

Most of the year in SA.
October to May in NSW.


Seed Biology and Germination:

Vegetative Propagules:

Perennial rootstock.


Hybrids:

Varieties with white or blue flowers.


Allelopathy:

Population Dynamics and Dispersal:

Origin and History:

Native to eastern Australia.


Distribution:

ACT, NSW, NT, QLD, SA, TAS, VIC, WA.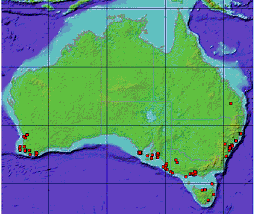 Courtesy Australia's Virtual Herbarium


Habitats:

Climate:

Cool temperate.


Soil:

Plant Associations:

Significance:

Beneficial:

Forage and readily grazed.


Detrimental:

Occasional weed of pastures.
Weed of cultivated areas in southern Queensland.


Toxicity:

Possibly toxic. The closely related Hound's-tongue (Cynoglossum officinale) is toxic.


Symptoms:

Treatment:

Legislation:

None.


Management and Control:

Grazing and competition from adapted pasture species normally keeps it under control in agricultural situations.
Herbicides such as glyphosate, dicamba, chlorsulfuron, metsulfuron, 2,4-D and picloram provide control. The best time appears to be in spring just before bolting.


Thresholds:

Eradication strategies:

Kill rootstocks then control seedlings to prevent seed set.
Mechanical removal is only effective if the rootstock is also removed.
Frequent cultivation can be used to control small infestations.
For small areas, spot spray with 100 mL Tordon® 75-D plus 1 g metsulfuron600 in plus 25 mL wetting agent in 10 L water.
Fire and mowing are not effective.


Herbicide resistance:

Biological Control:

Related plants:

Australian hound's-tongue (Cynoglossum australe) usually has pale blue flowers on stalks that are shorter than the calyx in leafless racemes and has flattened fruits.
Forest hound's-tongue (Cynoglossum latifolium) has much broader leaves, a scrambling habit and occurs in moister situations.


Plants of similar appearance:

Forget-me-not (Myosotis sylvatica) has similar "sticky" fruits and has blue flowers.


References:

Auld, B.A. and Medd R.W. (1992). Weeds. An illustrated botanical guide to the weeds of Australia. (Inkata Press, Melbourne). P124-125. Diagram.

Black, J.M. (1965). Flora of South Australia. (Government Printer, Adelaide, South Australia). Part IV. P713-714. Diagram.

Bodkin, F. (1986). Encyclopaedia Botanica. (Angus and Robertson, Australia).

Burbidge, N.T. and Gray, M. (1970). Flora of the Australian Capital Territory. (Australian National University Press, Canberra). P307. Diagram.

Cunningham, G.M., Mulham, W.E., Milthorpe, P.L. and Leigh, J.H. (1992). Plants of Western New South Wales. (Inkata Press, Melbourne). P565. Photo.

Everist, S.L. (1974). Poisonous Plants of Australia. (Angus and Robertson, Sydney).

Harden, Gwen J. (1991). Flora of NSW. (Royal Botanic Gardens, Sydney). Volume . P390. Diagram.

Lazarides, M. and Cowley, K. and Hohnen, P. (1997). CSIRO handbook of Australian Weeds. (CSIRO, Melbourne). #318.3.

Randall, J.M. and Marinelli, J. (1996) Invasive Plants. (Brooklyn Botanic Gardens Inc. Brooklyn). P. Photo.

Acknowledgments:

Collated by HerbiGuide. Phone 08 98444064 or www.herbiguide.com.au for more information.